Tradition Of The '5x10 Plays' Returns To Tusculum For Seven Shows In Annie Hogan Byrd
Friday, April 16, 2021

---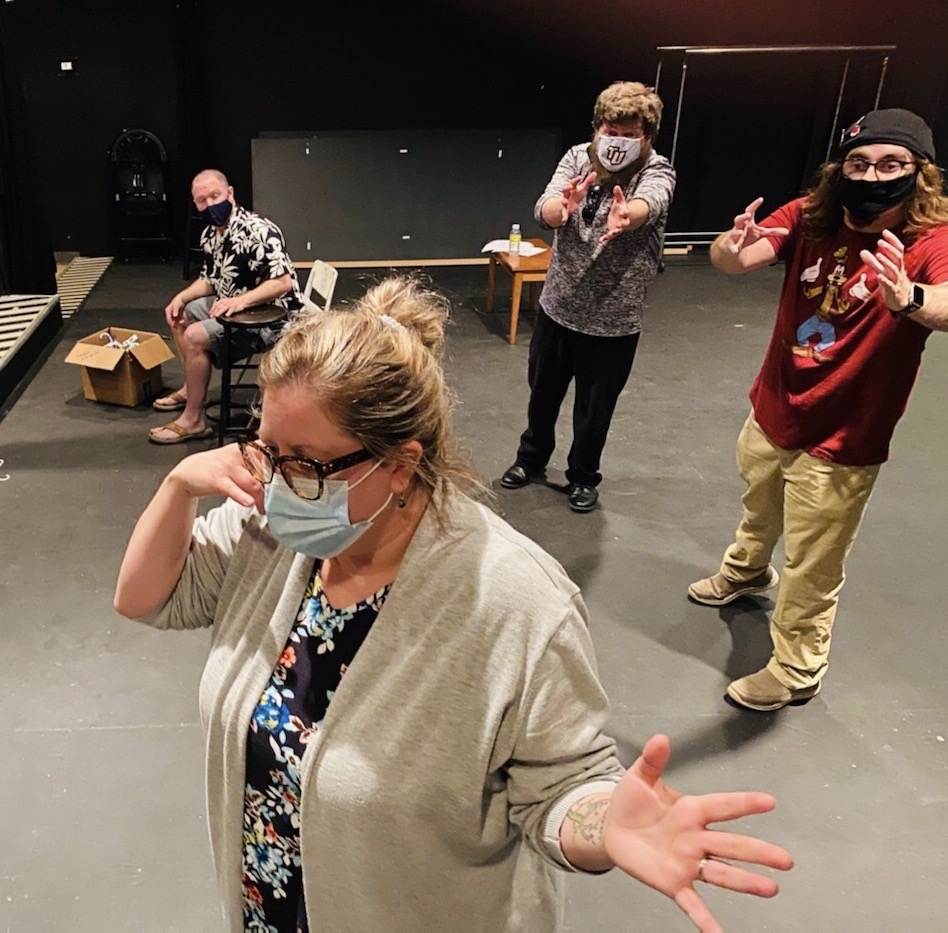 Left to right, Josh Beddingfield, Jessie Beth Miller, Steve Schultz, & Zach Gass rehearse a scene in "Room for One More."
Community members who enjoy a short story version of theater will experience diverse offerings in an upcoming series of performances at Tusculum University.

Tusculum Arts Outreach and the university's English and Fine Arts Department will conduct the "5x10 Plays" starting today, and continuing for six additional dates. Each day, actors will perform five plays in the Annie Hogan Byrd Fine Arts Center Theatre that last 10 minutes each. Following the completion of all five plays, except on closing night, Tusculum will hold a question-and-answer session with various members of the production.

Tusculum holds the "5x10 Plays" every other year, and the university's students typically write all of them. This year, the university has opened the event to a professional playwright and a local middle school student.

Here are the plays.

*"Loyalty," written by Meredith Barton and directed by Brian Ricker

*"BPM," written by Serina Marshall and directed by Frank Mengel

*"Polished," written by Cole Robertsen and directed by Erin Schultz

*"Room for One More," written by Sam Schultz and directed by Wayne Thomas

*"Outside of Eden," written by Amy Zipperer and directed by Thomas

Barton, Marshall, and Robertsen are Tusculum students, and Sam is a 13-year-old seventh grader at Chuckey-Doak Middle School. Zipperer is a teacher and playwright who is widely published and produced across North America. She also served as judge of this year's Curtis and Billie Owens Literary Awards, a celebration of excellence in creative writing by Tusculum students.

Performers will be Tusculum students and community members.

The "5x10 Plays" premiere today at 7:00 PM. The plays will also be performed April 17, 22, 23, and 24 at 7:00 PM and April 18 and 25 at 2:00 PM.

Participants in the question-and-answer sessions afterward will be:

*Today - Zipperer, who will also announce the winners of the Curtis and Billie Owens Literary Awards

*April 17 - the other four playwrights

*April 18 - designers Mengel and Erin Schultz

*April 22 - the directors

*April 23 - the casts of "BPM," "Loyalty," and "Polished"

*April 24 - the casts of "Room for One More" and "Outside of Eden"

Tickets are general admission and cost $10. Seating is limited to 100 for each performance because of the global coronavirus pandemic. Guests must wear a face covering and observe physical distancing, and Arts Outreach personnel will conduct temperature checks.

Reservations are encouraged by emailing Jennifer Hollowell, coordinator of Arts Outreach, at jhollowell@tusculum.edu or calling 798-1620. Payment is by check or cash only. Tickets are also available at the Annie Hogan Byrd box office an hour before the show.

---
---